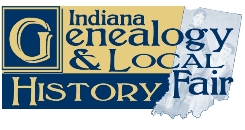 I
ndiana State Library

Saturday October 24, 2009,

9:00 am – 3:30 pm
The Indiana State Library will host an Indiana Genealogy and Local History Fair on Saturday October 24, 2009, in downtown Indianapolis. Enter the State Library building at 315 West Ohio Street. Admission is free and the fair is open to the general public. Visit the tables in the "midway" to collect information from genealogical and local history organizations and Indiana libraries and shop the commercial vendors.
The speakers will be on hand for book signings after each program. Additional Indiana authors will also be present at a special group signing at 12:00 p.m. Fair attendees will receive a 20% discount on purchases from the Indiana Historical Bureau book shop.
9:30-10:30 a.m. Indiana Author's Room
A Grave Matter in Indiana presented by Jeannie R. Regan-Dinius
You search for years and years to find the location of your great-grandmother's grave. When you finally decide to take a visit, you find a cemetery which has not been mowed all season - if you can even access it at all. Who is supposed to take care of these places? Can they keep me from visiting my ancestors' graves? What can I do to help out?
Jeannie R. Regan-Dinius works as Director of Special Initiatives for the Indiana Department of Natural Resources – Division of Historic Preservation and Archaeology (DHPA). She works with the Underground Railroad research initiative as well as the Cemetery Registry, the Historic Theater initiative, and public outreach.

11:00 a.m. - 12:00 p.m. Indiana Author's Room
Women in Nineteenth-Century Indiana presented by Nicole Etcheson
Explores the changing experience of white, Native American, and African American women in Indiana from the pioneer period through the woman suffrage movement.
Nicole Etcheson is Alexander M. Bracken Professor of History at Ball State University. She is the author of Bleeding Kansas: Contested Liberty in the Civil War Era and The Emerging Midwest: Upland Southerners and the Political Culture of the Old Northwest, 1787-1861.
1:30-2:30 p.m. Indiana Author's room
Pioneer Migration into Indiana presented by James H. Madison
Program will discuss the various streams of migration that settled Indiana and show how their origins, timing, and cultural features shaped the state and helped to make Hoosiers a distinctive part of the nation.
James H. Madison is the Thomas and Kathryn Miller Professor of History and former chair of the Department of History at Indiana University, Bloomington. Among his publications are The Indiana Way: A State History; Eli Lilly: A Life; A Lynching in the Heartland: Race and Memory in America; and Slinging Doughnuts for the Boys: An American Woman in World War II.
October Family History Month Programs at the Indiana State Library