March 2010

All Indiana State Library events and workshops are free and open to the public.
All events and workshops occur at the Indiana State Library. You can enter the State Library at 315 W. Ohio Street, Indianapolis, Indiana. Programs require no registration. For more information call 317-232-3675.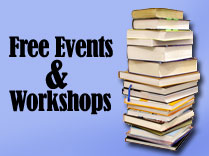 Family History Orientation Tours
Learn where different family history resources are located on the first and second floors of the Indiana State Library. This is a free orientation tour, geared toward genealogists. Pre-registration is required; please call 317-232-3689.
Upcoming Family History Orientation Tours

Tuesday, March 2, 2010
Thursday, March 18, 2010
Tuesday, April 6, 2010
Thursday, April 22, 2010

What's New


Did you know?

The State Library is now doing programs every Thursday evening from 5:30-6:30. There will be additional programs during the week at various times.
Resources from the
Indiana State Library
Federal Depository Library Program
Genealogy Collection
Indiana Collection
INSPIRE - Indiana's Virtual Library
Indiana Memory
Manuscripts & Rare Books Collection
Reference & Government Services Collection
State Data Center
More Online Databases

Helpful Links for
Indiana State Library Visitors
Hours & Directions
Map of Downtown Indianapolis
Nearby Dining

Gearing Up for the 2010 Census

Census forms should start arriving at households in mid-March and Census Day is April 1st.
The Census happens only once every 10 years, and it's important for everyone to be counted.
Census data directly affect how more than $400 billion per year in federal funding is allocated to communities for neighborhood improvements, public health, education, transportation and much more. That's more than $4 trillion over a 10-year period. Following Census 2000, $388 million in federal grants shifted to states with the biggest estimated population increases based on the census.
What are some of the other uses of Census data?
Census data is used to apportion congressional seats
Census data is used to draw districts for the Indiana General Assembly
Census data drives funding and delivery for other federal programs, such as Medicaid, social services, schools, transportation funding, programs for seniors, and emergency supplies.
Help ensure Indiana gets its fair share of federal and state funding by filling out your Census form and encouraging family, friends and neighbors to do the same. Learn more about Indiana's 2010 Census effort. http://www.indiana.census.edu/
Upcoming Events & Workshops
It's OSCAR Time
Wednesday, March 3, 11:00 am-noon, History Reference Room
Indiana has a long tradition of great authors and many of their books were made into award winning movies. Learn about some of those books and see clips of movies with a Hoosier connection.
Researching Manuscript Collections
Thursday, March 4, 5:30-6:30 pm, Indiana Author's Room
Learn how to research manuscript and photograph collections using various tools available at the Indiana State Library.
Unique Genealogy Sources
Tuesday, March 9, 11:00 am-noon, History Reference Room
Come and learn about little-known sources for genealogy research at the Indiana State Library. Enhance your research with these unique and useful resources and find hidden information that you never knew existed.
Hoosier Salon
Thursday, March 11, 5:30-6:30 pm, Indiana Author's Room
The Hoosier Salon became a nationalized, recognized venue for Hoosier artists after its inception in 1925. This program will show its history as documented in the materials available through the Indiana State Library.
Sound of Music
Tuesday, March 16, noon-1:00 pm, History Reference Room
The library is more than books and documents – there is also a great music collection. Come learn about the State Library's collection of sheet music and songbooks.
Researching Family History, part 1
Thursday, March 18, 5:30-6:30 pm, History Reference Room
Get an introduction to the beginning elements of genealogy research and overview of the basic documents and resources used in tracing your family tree.
Using Maps in your Research
Wednesday, March 24, 10:00-11:00 am, Indiana Author's Room
Learn about the different kinds of maps available at the Indiana State Library, including digital maps and microfilmed maps. Sanborn, topographic, transportation maps and more will be covered.
Using the Indiana State Library's Catalog
Thursday, March 25, 5:30-6:30 pm, Room 428
Patrons will learn both simple and complex searching of the library's web catalog. Procedures and techniques to getting the most from searching the catalog and finding what you want.
The 2010 Census
Tuesday, March 30, noon-1:00 pm, Indiana Author's Room
Census Day is April 1st! This program will help answer questions about the 2010 census like why the U.S. holds a census, how safe the census is, and what questions will appear on the census this year.
Hoosier Mama, Hoosier Papa
Thursday, April 1, 5:30-6:30 pm, History Reference Room
Get an introduction to the materials in the Indiana State Library for family history research. This is a good follow-up to the Genealogy for Beginners program.